Butterscotch 
 is a pony on a mission to capture
Tifu
 in Adventures in the pokemon kingdom
 and in  
pupppy in my pocket:Lili's story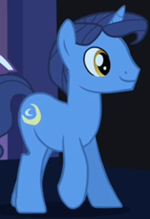 Background
Edit
Appearance
Coming Soon!
Personality
Butterscotch is described as dedicated character who will stop at nothing to take down the criminal he is after.Butterscotch is brave, daring ,bold and not at all cowardly even being more feared than his captain.
Character information
Edit
 names:max
personality:willing,funny,handsome,agile,determind
Occupation:Pony of the Captain's Guards
Affilations: Good
Goal:to capture Tifu
Home:princess lili's castle
Allies:Princess lili, Prince willis, Royal guards, princess ava, dogo,Telekinetic sorceress
Minions: princess lili's royal guards
Enemies: Pocketville villains 
Likes:Apples,helping princess lili
dislike:being outsmared,trouble
Weapons:Sword, hooves, teeth
Ad blocker interference detected!
Wikia is a free-to-use site that makes money from advertising. We have a modified experience for viewers using ad blockers

Wikia is not accessible if you've made further modifications. Remove the custom ad blocker rule(s) and the page will load as expected.