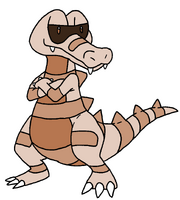 Kubu is the Anti-Villian of puppy in my pocket:lili's story.
Personality
Edit
Kubu is defiant, impulsive, opinionated and quick to anger but smart and knows how to strategize.
Information
Edit
Name: Kubu
Meaning: Rebellion
Species: krokorok
Appearances: puppy in my pocket:lili's story
Desired Voice Actors: Liev Schreiber
Ad blocker interference detected!
Wikia is a free-to-use site that makes money from advertising. We have a modified experience for viewers using ad blockers

Wikia is not accessible if you've made further modifications. Remove the custom ad blocker rule(s) and the page will load as expected.