Zull
 is a rottweiler voiced by Richard Epcar.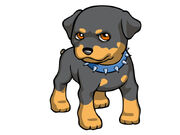 He is one of Eva's two henchdogs. He is known to get in arguments with Gort. He also once said Eva was not always the selfish cat she is now. Eva's plans usually backfire on him and Gort. In an episode it proves that Zull is actually smarter than Gort. He is not very polite but showed very good manners when he saw a female Rottweiler at Bella's school. He and Gort are not that brave.
Ad blocker interference detected!
Wikia is a free-to-use site that makes money from advertising. We have a modified experience for viewers using ad blockers

Wikia is not accessible if you've made further modifications. Remove the custom ad blocker rule(s) and the page will load as expected.